Events at SQCC
The Sultan Qaboos Cultural Center (SQCC) regularly cosponsors events with other institutions around Washington, D.C. and across the U.S. SQCC participates in festivals and workshops with other organizations in order to fulfill its mission of educating Americans about Omani culture and supporting cross-cultural exchange between the US and Oman.
Subscribe for the latest events!
Come to our Upcoming Events!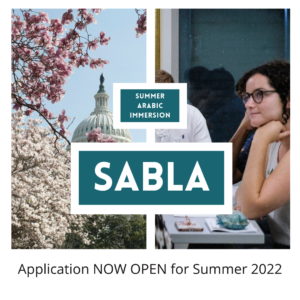 Sabla is a 4-week intensive Arabic immersion program in Washington D.C. It is a scholarship-based program, meaning all tuition is covered (please note that room and board are not covered). You and your cohort will not only continue to discover the beautiful language of Arabic but will learn more about the country of Oman and…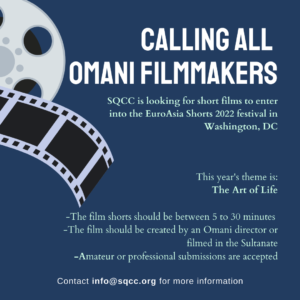 Sultan Qaboos Cultural Center is looking for short films made by Omanis or filmed in the Sultanate of Oman to submit to the. For more information, please email info@sqcc.org The festival's theme is "The Art of Life" The film must be between 5-30 minutes Created by an Omani or Filmed in the Sultanate of Oman…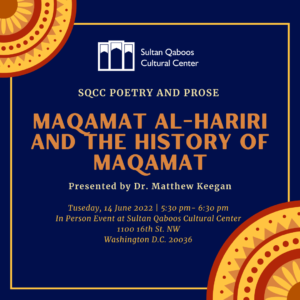 RSVP using this link: http://events.constantcontact.com/register/event?llr=jjfaurzab&oeidk=a07ej6uld5oaed0f0e0 The Maqamat of al-Hariri is a collection of stories from the 12th century CE about a vagabond trickster who uses his riddles and eloquence to dupe and delight his audiences. Al-Hariri's stories were written in ornately rhymed Arabic prose and were considered a classic for centuries. Scholars across the Islamic…
Events
These events range from our SQCC annual conference, held in partnership with a different university each year, to multicultural festivals and events hosted by organizations like the Smithsonian's Freer and Sackler Galleries (Washington, D.C.), Arab Festival Orlando (Orlando, FL) and the Children's Museum of Manhattan (New York City, NY). SQCC also annually holds a booth at the National Council for the Social Studies (NCSS) annual conference, where SQCC promotes its Indian Ocean in World History website, a free classroom resource, to K-12 educators.