There are no current upcoming events. Please check again later.
Subscribe for upcoming events!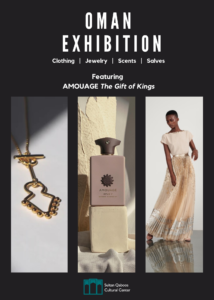 Oman Exhibit at Craft2Wear 20-22 October 2022 National Building Museum The Sultan Qaboos Cultural Center (SQCC) at the Embassy of the Sultanate of Oman will partner with the Smithsonian Women's Committee for the 2022 Craft2Wear Show. SQCC will also exhibit Omani fashion, jewelry, and perfume from the Sultanate of Oman and other wearable art. You…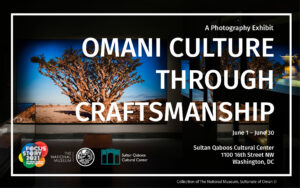 Dates: July 1- August 20 Viewing Hours: Mon-Fri: 10:30 am- 4:00 pm Location: Sultan Qaboos Cultural Center 1100 16th Street NW, Washington, DC FACE MASK REQUIRED The Sultan Qaboos Cultural Center will be exhibiting works from the National Museum of Oman. The National Museum of Oman's extensive photography collection holds some…
Come celebrate World Arabic Language Day at SQCC on 10 December from 6:00 p.m. to 8:00 p.m. This year's theme is "The Arabic Language Through Music" featuring a public lecture, live music, and a reception.