Children's Arabic Program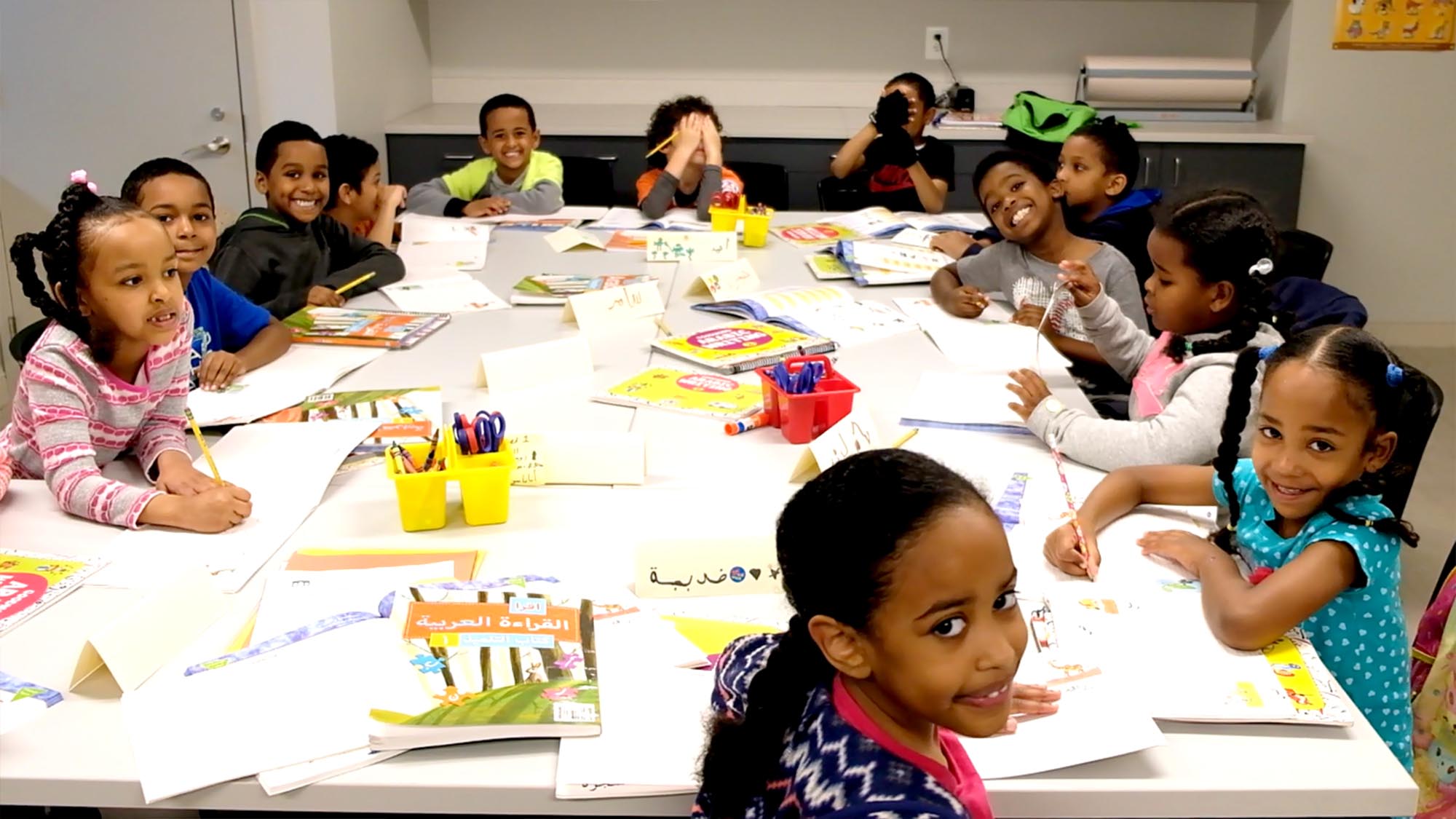 Applications for Fall 2023 will be open in the summer. We are not accepting any students at this time for Spring 2023.
The Arabic program for children is committed to the task of building an appreciation of Arabic language and culture. Students are encouraged to become confident speakers at an early age. Lessons are conducted in Modern Standard Arabic (MSA) in an immersive environment that focuses on all four language learning skills: listening, speaking, reading and writing.
No prior knowledge of Arabic is required for students to participate in the program. However, students with some Arabic proficiency will be given an assessment test to determine their level before attending class. Students will be grouped in different classes based on language ability and age. Heritage speakers and non-native speakers of Arabic follow the same course of study in our program.
This program is a scholarship-based program available to qualified children who reside in Washington, D.C., Virginia, and Maryland. There are no tuition fees, but students must purchase required textbooks.
Fall Session 2023
Dates: TBD
Day: Saturdays at SQCC
Time: 9:30 am to 1:00 pm
Levels and Age Groups
Our courses are divided into two levels for each age group category: Level 1 for beginners and level 2 for intermediate.
Level 1 (Ages 6-11 years)
In this course, students will learn the Arabic alphabet and long and short vowels. The course is designed to enable students to read three and four-letter words. They will also develop basic writing skills by joining letters. Students will learn to express themselves in simple sentences, learn numbers, and basic conversation skills. The course curriculum incorporates the use of educational games, stories and songs.
Level 2 (Ages 6-11 years)
In this course, students will be introduced to basic Arabic grammar – singular pronouns and possessive pronouns. Students will engage in conversation about personal data, school life, family members etc. In addition to the required textbook, this course will utilize educational posters and handouts which will help students to verbally express themselves with simple sentences. Students will have spelling tests to assert their proficiency of letters and vowel sound recognition. The course places a greater emphasis on reading and listening comprehension.
Level 1 (Ages 12-15 years)
In this course, students will learn the Arabic alphabet, and long and short vowels. Students will master recognition of Arabic script and dictation. While students are learning basic grammatical patterns, they will learn Arabic greetings, know how to introduce themselves, tell time, days of the week, and numbers. In addition, they will engage in educational games, stories and songs appropriate to their age.
Level 2 (Ages 12-15 years)
Level two students will master reading sentences and small paragraphs. They will learn essential grammatical structures, verb and noun conjugations, adjectives, and adverbs. Students will be introduced to the ten measure chart. Emphasis will be placed on writing short paragraphs. The course will also hone students' verbal communication skills through role playing and guided conversations to advance their proficiency and fluency in Arabic.
For assistance, please email: [email protected]
Sorry, we couldn't find any events.