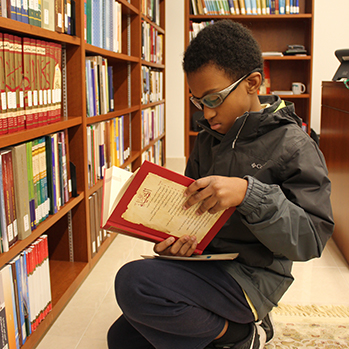 The SQCC Arabic Summer Camp offers full Arabic immersion for your child in a welcoming and nurturing environment. Our summer Arabic camp provides your child with opportunities to practice their language skills while exploring the culture through music, singing, theater, dancing, movies, cooking, arts and crafts activities, and so much more.
Mornings are designated to Arabic language learning with a focus on reading and writing instruction. Afternoons are dedicated to enhancing your child's critical thinking and inspiring their creative minds through child-centered cultural activities and field trips where the focus will be on speaking.
The instructions and various activities of the summer camp will be entirely in Arabic to ensure a full-immersion experience. The camp is staffed by highly qualified teachers, volunteer counselors, and Arabic program administrators.
Our well-crafted summer camp program is the gateway to your child's Arabic higher level language proficiency and fluency achievement.
Location
Sultan Qaboos Cultural Center
1100 16th Street NW, Washington, D.C. 20036
Dates and Hours
TBD
Fees
Our camp is a scholarship-based program available to eligible children who reside in Washington, D.C., Virginia, and Maryland.
Food
Children must bring their own boxed lunch and snacks.
Eligibility
Open to children 8 to 13 years of age.
A proof of age documentation is required for consideration
A novice-high level is required for the application consideration.
Your child will be interviewed via Skype/Facetime to determine proficiency level.
Registration
Limited seating is available for this highly competitive scholarship. We accept a maximum of 35 applicants each year.

Application Form
Application Opens TBD
Deadline is TBD
Application Results will be sent out on TBD
Sorry, we couldn't find any events.