Events at SQCC
The Sultan Qaboos Cultural Center (SQCC) regularly cosponsors events with other institutions around Washington, D.C. and across the U.S. SQCC participates in festivals and workshops with other organizations in order to fulfill its mission of educating Americans about Omani culture and supporting cross-cultural exchange between the US and Oman.
Subscribe for the latest events!
Come to our Upcoming Events!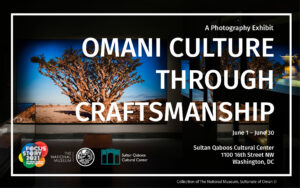 Dates: July 1- August 20 Viewing Hours: Mon-Fri: 10:30 am- 4:00 pm Location: Sultan Qaboos Cultural Center 1100 16th Street NW, Washington, DC FACE MASK REQUIRED The Sultan Qaboos Cultural Center will be exhibiting works from the National Museum of Oman. The National Museum of Oman's extensive photography collection holds some…
Events
These events range from our SQCC annual conference, held in partnership with a different university each year, to multicultural festivals and events hosted by organizations like the Smithsonian's Freer and Sackler Galleries (Washington, D.C.), Arab Festival Orlando (Orlando, FL) and the Children's Museum of Manhattan (New York City, NY). SQCC also annually holds a booth at the National Council for the Social Studies (NCSS) annual conference, where SQCC promotes its Indian Ocean in World History website, a free classroom resource, to K-12 educators.