Events at SQCC
The Sultan Qaboos Cultural Center (SQCC) regularly cosponsors events with other institutions around Washington, D.C. and across the U.S. SQCC participates in festivals and workshops with other organizations in order to fulfill its mission of educating Americans about Omani culture and supporting cross-cultural exchange between the US and Oman.
Subscribe for the latest events!
Come to our Upcoming Events!
Click here to register for the event: conta.cc/2RqIlq6 In her recent book, Arabic Poetics: Aesthetic Experience in Classical Arabic Literature, Lara Harb argues that the main aesthetic that underlay classical Arabic literary theory was one of wonder. In this lecture, Harb will explore this aesthetic of wonder through reading a selection of verses from classical Arabic poetry,…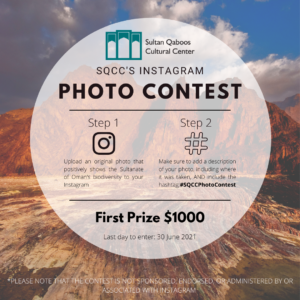 Open to amature photographers in the US! Starting 1 March 2021
Show your best photograph from the Sultanate of Oman
1st Prize: $1000
2nd Prize: $500
3rd Prize: $300
How to enter?
Using your instagram account, post an an original photo of the Sultanate of Oman's biodiversity
In the description, describe your photo, including the location, AND add the hashtag: #SQCCPhotoContest
Last day to enter: 30 June 2021
Please read Official Rules before entering the contest. Winners will be announced on 14 July and sent a message via Instagram. Make sure to follow @sqccdc to see the winning photos!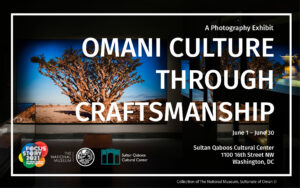 NOW OPEN TO VISIT Dates: June 1 – June 30 Viewing Hours: Mon., Tue. , Thurs., Fri. : 10:00 a.m. – 4:00 p.m. Wednesday : 10:00 a.m. – 7:00 p.m. Saturday : 12:00 – 4:00 Location: Sultan Qaboos Cultural Center 1100 16th Street NW, Washington, DC FACE MASK REQUIRED The Sultan Qaboos…
Events
These events range from our SQCC annual conference, held in partnership with a different university each year, to multicultural festivals and events hosted by organizations like the Smithsonian's Freer and Sackler Galleries (Washington, D.C.), Arab Festival Orlando (Orlando, FL) and the Children's Museum of Manhattan (New York City, NY). SQCC also annually holds a booth at the National Council for the Social Studies (NCSS) annual conference, where SQCC promotes its Indian Ocean in World History website, a free classroom resource, to K-12 educators.