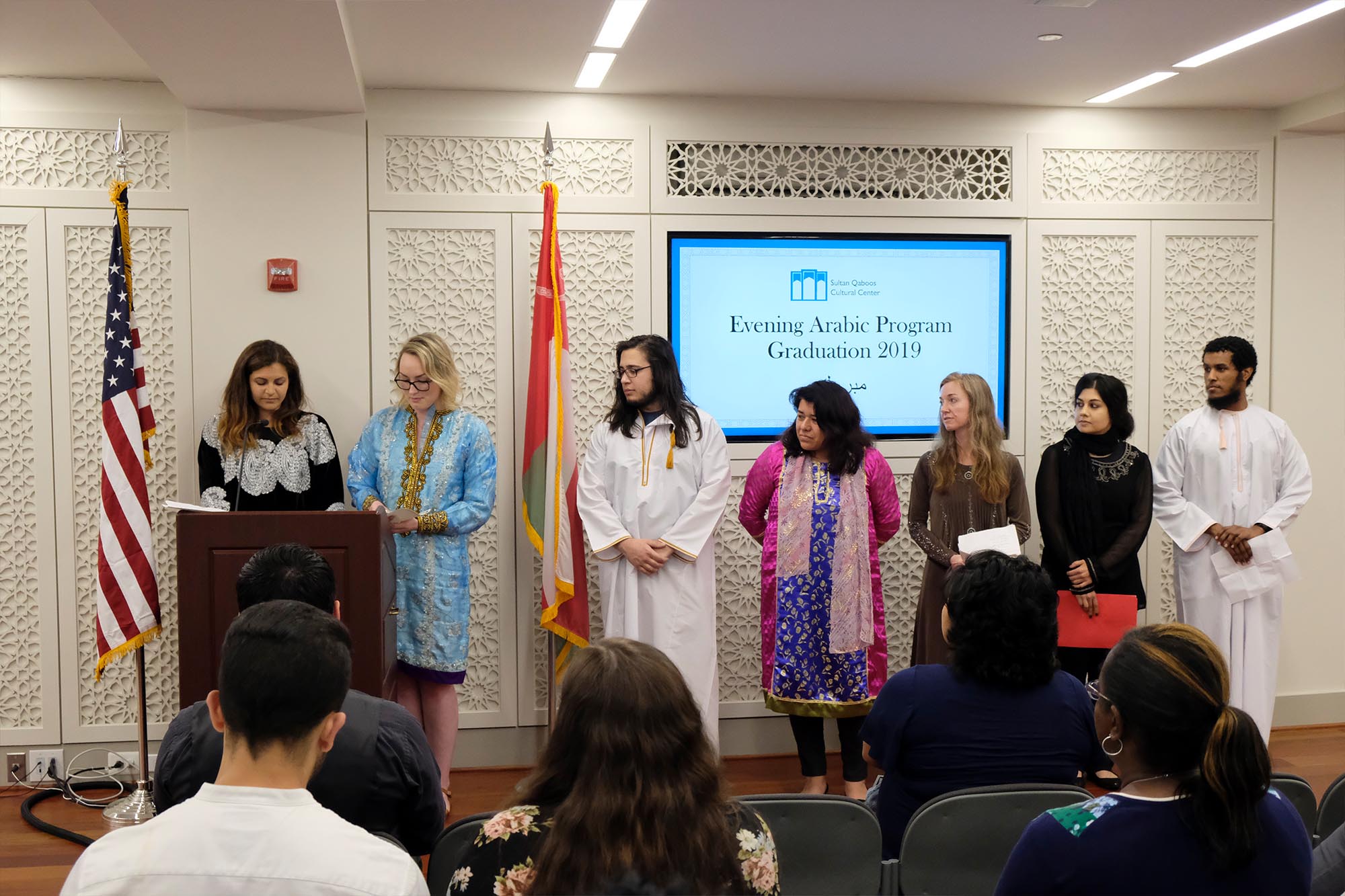 Academic Year for Adults (Evening)
SQCC offers Arabic classes to working professionals on scholarship. The program is a cohort program. This means that applicants are admitted only in the Fall I session to join the academic year's cohort. Students will not pay tuition or fees but will be required to purchase textbooks for the course.

To ensure satisfactory progress through the program, we require that students obtain a minimum grade of a B and have a strong attendance record in order to continue to the next level. Upon successful completion of the program, students will receive a Certificate of Completion. Students with poor attendance or unexcused absences may have their scholarships withdrawn.
Our Arabic program standards are based on ACTFL Proficiency Guidelines 2012, developed by the American Council on the Teaching of Foreign Languages. These guidelines are organized into five levels: Novice, Intermediate, Advanced, Superior, and Distinguished. The levels of Novice, Intermediate, and Advanced are subdivided into Low, Mid, and High sublevels.
Distinctive Features of this Arabic Program:
Highly dedicated and caring Arabic language Instructors a new classroom facility to meet the needs of 21st century language learners.
ACTFL standards-based curriculum
Small class sizes
Technologically equipped classrooms
Blended learning methodology and web-enhanced instruction
Communicative language teaching (CLT)
Evening Class Times

Classes are offered at 6:00 – 8:00 p.m. and 8:00 – 10:00 p.m. on Monday/Wednesday or Tuesday/Thursday
Calendar
Spring Session I 2020
Monday, January 6th –Thursday, February 27th
Spring Session II 2020
Monday, March 9th –Thursday, April 30th
Fall Session I 2020
Monday, August 24th –Thursday, October 15th
Fall Session II 2020
Monday, October 26th –Thursday, December 17th
Application for Academic Year Fall 2020 is now open!
The application deadline is 9 July 2020 **
Results will be emailed to applicants on 17 July 2020
** The application deadline has been extended to 26 July 2020
Our Evening Courses
All courses run for 8 weeks and provide 32 in-class contact hours. The following is a general guide to the courses available in SQCC's Arabic Language Program.
Our program offers:
General Arabic Courses
Specialized Arabic Courses
Course Descriptions:
Evening Courses
For assistance, please email Dr. Abeer Al-Mohsen: arabic@sqcc.org
To apply:
Evening Classes Application
Evening Classes Placement Test
Note: If you have no prior knowledge of Arabic, you can upload a document with a statement to that effect for the Arabic essay application requirement. Beginner students do not take the placement test.
Sorry, we couldn't find any events.