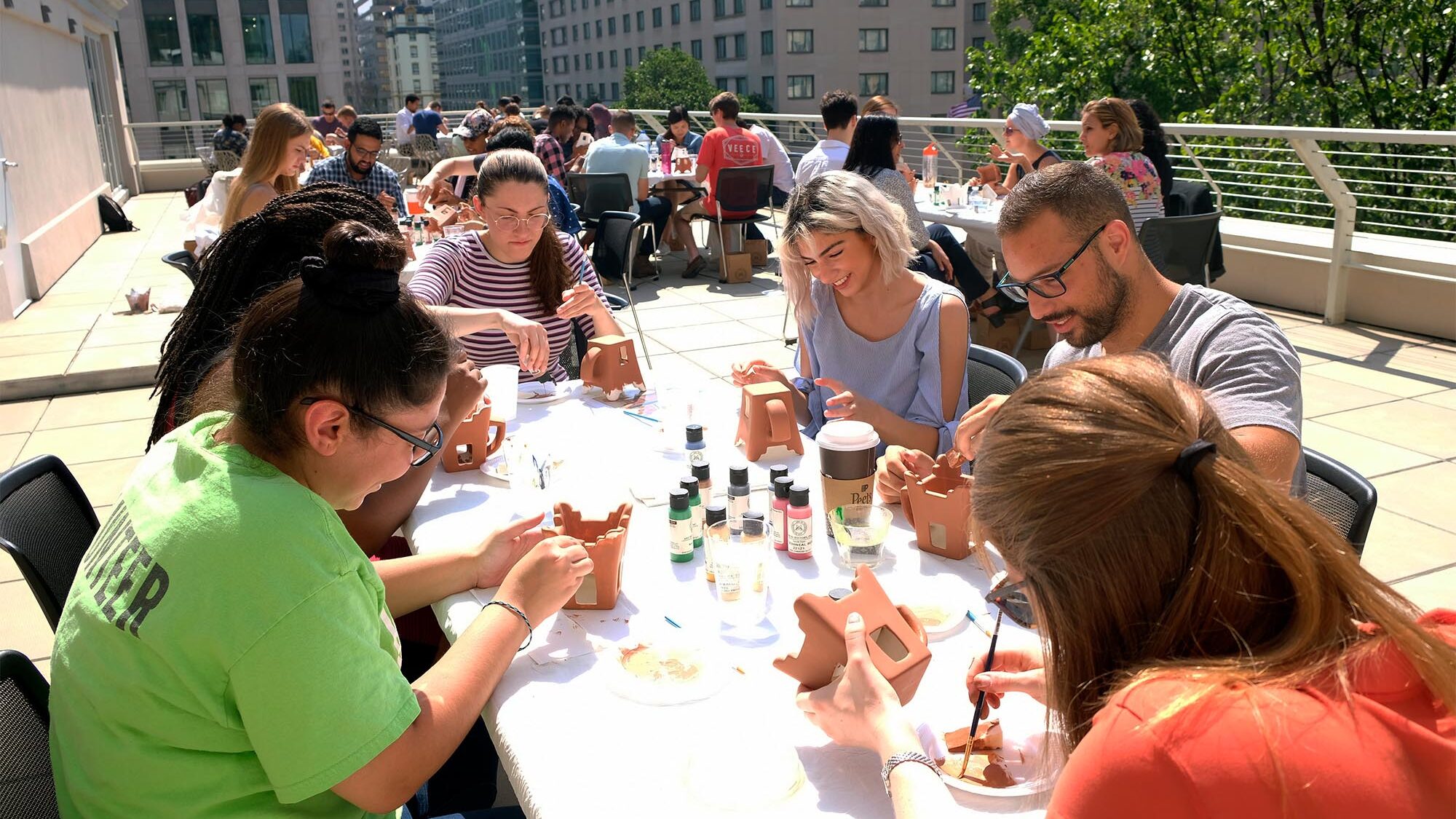 Sabla 2023 canceled
Sabla is an intensive language and cultural immersion program for American undergraduate and graduate students. Each summer, students from across the U.S. can study Arabic at SQCC on scholarship.
The word Sabla in Omani Arabic dialect refers to a place in each community where people gather and receive hospitality. Sabla also serves as a meeting place to discuss important public issues.
The Sabla program aspires to be a hub bringing together students from across the U.S. for a dynamic linguistic and cultural exchange. The program hopes to enable students to become active learners and to form a community to cultivate a lifelong Arabic language learning experience.
The program is an intensive summer language experience designed to benefit current university-level students and recent graduates. Courses are offered at four different levels: Advanced Beginning, Low Intermediate, High Intermediate and Advanced. The program emphasizes the instruction of Modern Standard Arabic or MSA (fusha).
The Sabla program runs for five weeks each summer, from Monday to Thursday, 10:00 a.m. to 3:00 p.m. Experienced instructors use a proficiency-based approach that emphasizes all five skills: listening, speaking, reading, writing and grammar. Arabic is the main language of instruction. Classes are held in technologically advanced classrooms. The program offers formal instruction in a language that is enriched by immersion in an authentic cultural context. Cultural activities include weekly lectures on topics related to Arab history, society, and culture with a special focus on Oman.
The program is highly demanding. As such, students are expected to be totally committed to attending classes and doing homework on a daily basis. The typical daily workload in the Sabla program entails 4 hours of classroom instruction and a minimum of 2 to 3 hours of homework.

All applicants are required to have completed at least two semesters of Arabic at a college or university in the United States by the start of the program.

The program includes:
Integrated weekly cultural events, including music presentations and movie screenings
Attending lectures conducted in Arabic featuring guest speakers
Trips to acquaint students with the magnificent Middle Eastern heritage on display in museums and libraries across D.C.
Visits to Middle Eastern restaurants
Fees
This academic scholarship covers the cost of classes only. Students will be responsible to pay for their airfare ticket to D.C., accommodation, and food, excursions (most museums in D.C. are free to the public) and any other miscellaneous living expenses for the duration of their stay in Washington, D.C.
Textbooks
Students are required to purchase textbooks. Additional teaching materials will be supplied by instructors at no cost to students.
Insurance
All insurance coverage including medical, life, accident etc. is the responsibility of the student. Please note that students will be required to provide proof of valid medical insurance with their application.
Accommodation
Students must make their own arrangements at a hotel, hostel, or private home in D.C. Reservations should be made in advance before arriving to D.C. for class. SQCC does not provide housing. Students must arrange for their own housing.
Sample weekly programs
A sample weekly schedule would look like this for in person instruction ONLY:
Time
Mon
Tues
Wed
Thurs
10:00-10:50
Class
Class
SQCC Library Visit
11:00-11:50
Class
Class
Class
Class
12:00-12:50
Lunch
Lunch
Excursions
Lunch
1:00-1:50
Class
Class
Cultural Workshops/Lectures
2:00-3:00
Class
Conversation Club
Arabic Movie/Competitions
Sabla Summer Arabic Language Immersion Dates 2023
July 10- August 3

Courses
Advanced Beginners
Low Intermediate
High Intermediate
Advanced
Location:
Sultan Qaboos Cultural Center
1100 16th Street NW
Washington, D.C. 20036
(202) 677-3967
Requirements
Application
Resume
Essays

Write an essay, in English, that discusses how participation in the Sabla Program at SQCC will help you accomplish your future goals. How do you plan to incorporate Arabic language study into your academic and/or career plans? (300-500 words)
Write an essay, in Arabic, introducing yourself to the Arabic program staff, including a discussion of your personal and professional interests and goals. (175 words)

Two letters of recommendation, including one from an Arabic instructor
Unofficial transcripts
Course Descriptions
We are not accepting Applications
For assistance, please email the Arabic Team: [email protected]
Sorry, we couldn't find any events.