There are no current upcoming events. Please check again later.
Subscribe for upcoming events!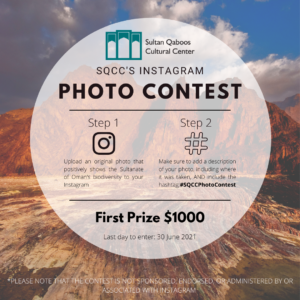 Open to amature photographers in the US! Starting 1 March 2021
Show your best photograph from the Sultanate of Oman
1st Prize: $1000
2nd Prize: $500
3rd Prize: $300
How to enter?
Using your instagram account, post an an original photo of the Sultanate of Oman's biodiversity
In the description, describe your photo, including the location, AND add the hashtag: #SQCCPhotoContest
Last day to enter: 30 June 2021
Please read Official Rules before entering the contest. Winners will be announced on 14 July and sent a message via Instagram. Make sure to follow @sqccdc to see the winning photos!