SQCC Hosts Students from NewU University
Date & Time
March 15
12:00 am - 11:59 pm
On Wednesday 15 March, SQCC hosted students from NewU University in Washington DC who are enrolled in course, Understanding Other Cultures. Students visited SQCC's library and learned more about Oman through a wide range of publications about cultural heritage, both in English and Arabic. Students were intrigued and asked many questions about the services offered by SQCC's library.
Students also toured SQCC's permanent exhibition, where they learned about the aflaj irrigation system, Oman's maritime history, and the role of frankincense in Omani hospitality as well as Omani crafts and attire.
Students also attended a lecture on the Sultanate of Oman, its culture, geography, climate, traditional dress, and customs. Students were excited to engage with staff, asked many questions, and were very interested to learn about Oman as well as SQCC's programs, scholarships and Arabic classes. The visit concluded with each students receiving a gift of packed frankince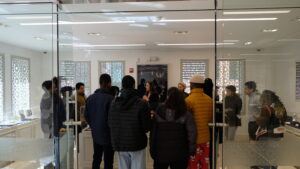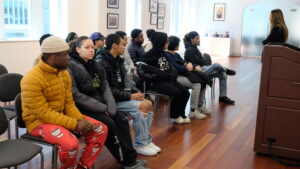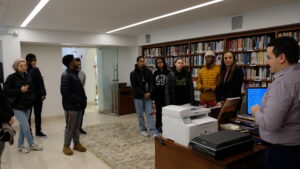 Sorry, we couldn't find any posts. Please try a different search.