SQCC Hosts a group from Frederick (MD) Community College
Date & Time
January 10
12:00 am - 11:59 pm
On 10 January SQCC hosted a group from Frederick (MD) Community College for a pre-departure briefing to Oman led by Linda Pappas Funsch, Professor of Middle East & Islamic Studies/ILR. The group is set to visit Oman at the end of this month. The group is comprised of thirteen senior citizens from the Frederick County, Maryland area. They are retired/ semi-retired professionals (engineers, teachers, lawyers, physicians, scientists, healthcare professionals, etc.).
The visit began with a tour of SQCC's permanent exhibition, where the group were introduced to Oman, its traditions, culture, and history including: traditional Omani attire and handicrafts, pottery, basketry, and silver artwork. Visitors also learned about the historical importance of the aflaj irrigation system, forts, and maritime trade.
After the tour, Mr. Salim Al Wardi, Deputy Chief of Mission of the Embassy of the Sultanate of Oman, gave a presentation on Oman's Foreign Policy, its multilateral relations with other countries, Oman-U.S. relations, religious freedom in Oman, and tourism in the country.
Later on, Ms. Khadija Al Hinai, Commercial Attaché of the Embassy of the Sultanate of Oman, gave a presentation entitled Invest in Oman and Oman 2040. Her presentation focused on the attractive investment opportunities in Oman, business frameworks, and how Oman is equipped for the challenges of the digital economy.
Ms. Linda Funsch then gave a presentation entitled Omani Women in the Public Sphere. Her presentation focused on highlighting the history and heritage of Oman as well as the remarkable achievements of the modern state including trade and commerce. Her presentation went on to talk about Omani women in history, Omani women in national development, women empowerment, women's role in Oman's maritime, women as custodians of social order, Omani Empire at its zenith, women's rights, the reign of Qaboos bin Said, a new dawn over Oman, education, healthcare, and life expectancy in Oman today.
Lastly, the group watched a video on Oman Growth and Prosperity.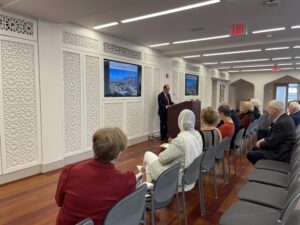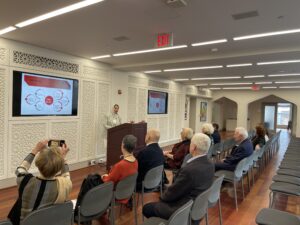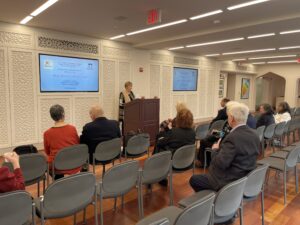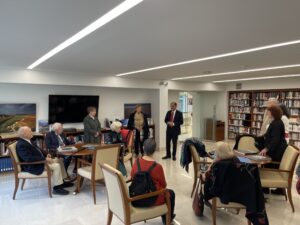 Sorry, we couldn't find any posts. Please try a different search.